Past Lives: Ronald Welch's "Knight Crusader"
I remember – was it thirty years ago? - I was first up the ladder at Lanstephan Castle.
I remember too, the Old Man of the Mountain as he ordered a follower to jump from the heights, for no better reason than to prove the power of the Assassins.
And, I remember the Horns of Hattin. That day, I yearned for drink, but tasted only dust. My sword spilled the blood of Emirs, but it was a Turkish sherbet offered to a prisoner that quenched my thirst.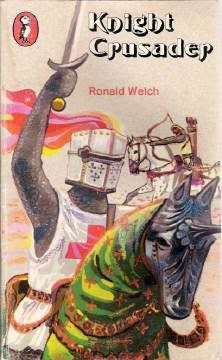 Thank you Ronald Welch.
Written by a soldier, "Knight Crusader" puts you there, in the shoes - saddle, more like - of Sir Philip de Aubigny of Blanche Garde.
Yes, like in "Eagle of the Ninth", the research has dated. He treats us to a long discourse on "banded mail", the full-faced bucket helms are probably fifty years too hi-tech, the use of a barrier in tournament is a tad precocious. God help me, Philip learns to lunge (!) from a Greek (!) fencing master, and medieval martial arts, for the most part, are dismissed as a matter of grunting and bashing. But, like Rosemary Sutcliff, he was using the best information he had to hand.
Yes, unlike in Eagle of the Ninth, you'll search in vain for women with agency, or religion, except where they are unavoidable parts of the landscape. This is a boy's book about a man's world, so we must forgive Welch the former sin. The latter, though, is harder to understand. In a novel about crusaders, not once does Philip reflect on his soul, or console himself that his father fell fighting the Infidel, and thus is assured a place in Heaven. Worse, he undergoes knighting, without keeping vigil in a church... the omission of which can only be deliberate. Contrast this with the personal piety of Marcus in "Eagle of the Ninth".
Even so, I'd rate this book as the equal of Rosemary Sutcliff's magnum opus. It sweeps from the Holy Land to Wales through a gritty, sweaty, world that feels so very real but also so very alien. The knights think like knights; pragmatic, but not quite soldiers. The barons vie for power like politicians, but driven by dynasty and religion, rather than party and doctrine. The fighting is brutal, just short of entrail-clutching, with characters dying on screen, and a dagger fight at the end in which nobody tells the hero, "Don't kill him, that'll make you as bad as him." (Philip wouldn't have heard him anyway; he was too busy hacking away at the other guy's mailed throat.)
Most of all, Ronald Welch does not question or improve on the period.
There's no hint of post-imperialism or liberalism... tensions exist between ruler and subject, masters beat servants, but things are as they are. And yet, people pay the price of their culture and accordingly die in droves. All is change. Welch does not yearn for a golden age that never was.
Beyond that, the books simply belong to different sub genres. Where Sutcliff gave us an intense but lyrical adventure story, two comrades against a landscape, Welch weaves a military story with armies clashing at the end of long chains of logistics, and the handling of your men being as important as the handling of your sword – I wonder if Bernard Cornwall read him?
So comparison is illuminating, but ultimately pointless. I count myself lucky to have read both books when I did, and fortunate that I can share them with my son.
They both beat the hell out of "That's not my tractor..." One nice thing about children is that they do grow up.

More blog entries at www.mharoldpage.com